We've updated The National College platform for the start of the 2023/24 academic year.
Following extensive feedback from our members, you'll now be able to access all your content in a more streamlined manner, with training and resources dedicated to your phase or specific type of setting, providing you with a more bespoke learning experience.
What's changed?
Now, when presented with our homepage or when you log in, you'll be asked to choose your phase or setting-type, as per the options below:
Nurseries
Primary Schools & Academies
Secondary Schools & Academies
International Schools
Independent Schools
Special Schools
Once selected, You'll be able to continue your learning as per normal.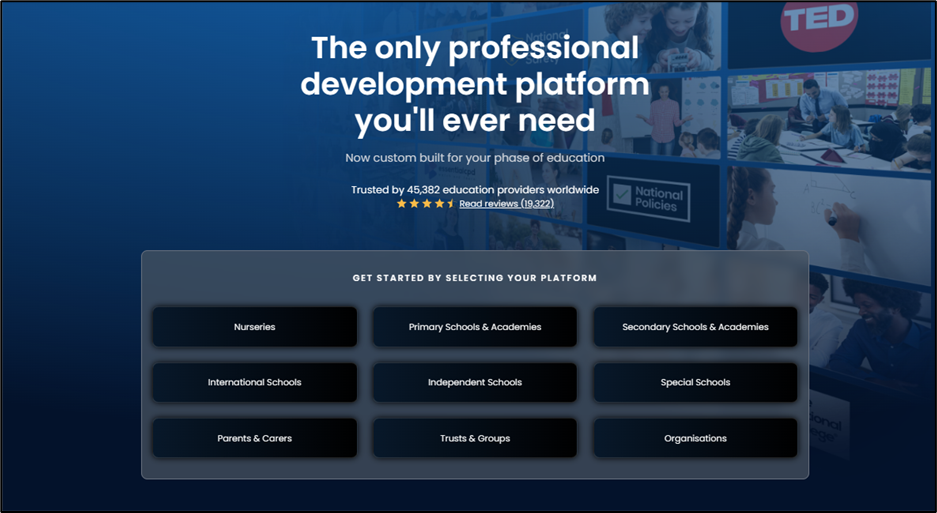 With respect to the below choices:
Parents & Carers
Trusts & Groups
Organisations
These will be phase or setting-specific (eg Trusts & Groups in Primary, Secondary, etc).
Can I switch between phases and settings?
If you're logged in to a school with a set phase, you'll be unable to switch your phase or setting.
If you're not logged in, or you're logged into a trust or all-through setting, you can easily switch between phases and types of settings using the switch button in the top right corner, as highlighted by the red rectangle in the image below.

What if I can't switch between phases or settings?
If you're a trust or an all-through setting and don't have the option to switch between phases and types of settings, please submit a ticket to our customer support team who'll be able to add this feature to your account.